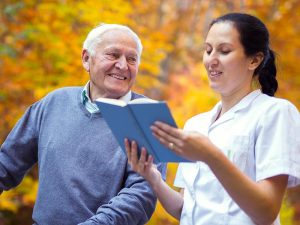 In the traditional approach to memory support, treatment for Alzheimer's disease and other dementias are centered on the disease with a secondary focus placed on the individual living with memory loss. While this care model may seem logical from a medical standpoint, it inevitably neglects the person as a whole and their experiences beyond their dementia diagnosis. Person-directed and person-centered memory support are the antidotes to this approach by centering a person in their own care and focusing on who they are now and not what they've lost.
At Jackson Creek Senior Living, our Autumn Colors Memory Support Program, part of our assisted living memory support, incorporates person-directed and person-centered memory support so residents are able to experience life to the fullest within our two memory support neighborhoods.
The Philosophy Behind Person-Directed and Person-Centered Memory Support
Person-directed care encourages individuals and their caregivers or care partners to practice self-determination in their daily lives, returning decision-making back to those most impacted by dementia. It also enhances a caregiver's capacity to engage with the person in their care, helping to provide a homelike environment that is warm and responsive and not institutional in nature.
Person-centered memory support is centered on the whole person and considers the abilities, emotions and cognitive capacities of that person without focusing on what the person has lost because of their disease. It also gives equal weight to the psychosocial background of the individual, and not just their physical and medical status.
Drawing on the work of geriatrician Dr. Al Power, this approach treats people living with dementia as individuals who've had a shift in their perspectives and life experiences rather than people who are now flawed or less than whole. In short, it's the kind of care any person would actually want if they were living with dementia.
The Essential Components of Person-Centered Care at Jackson Creek
 In taking a person-centered approach, our Autumn Colors Memory Support Program includes:
Personalized care plans. To know the whole person, we learn our residents' life stories and work with family members to develop a personalized care book that includes each resident's life history and a detailed account of how dementia specifically affects them.
Diverse recreation and activities. We encourage our residents to set their own pace for programming, while offering a diverse schedule of activities, including physical and sensory programming, spiritual pursuits and community engagement.
Learning therapy. Our community employs cognitive learning activities to provide ongoing therapy to residents with the goal of improved cognitive function.
A reading program geared at seniors with memory challenges. We use books designed to compensate for the vision, attention and memory difficulties of seniors with dementia, while still reflecting their age, interests, strengths and experiences.
Person-centered technology. Our residents have access to user-friendly technology like iN2L and Eversound to stay connected and engaged. iN2L technology allows residents to easily use computers for social connection and recreation, while Eversound helps residents to hear clearly and more actively engage in community events and activities.
Ongoing staff and caregiver training to provide the best care for our residents. Our staff and caregivers are always learning and reviewing the best methods to provide person-centered memory support. Training includes dementia capable care certification courses that emphasizes the importance of knowing the entire person, a virtual dementia tour that is proven to build sensitivity and awareness of what it means to live with dementia, and guidance on communicating with people living with progressive dementias.
Special consideration for our residents' environments. Our memory support program also includes special considerations for secure and therapeutic interior and exterior spaces, from the patterns on our drapes to special lighting, to keep residents safe and reduce confusion. We also offer dementia-friendly dining menus.
With this care model in place, we're working at Jackson Creek Senior Living to shape a new experience for people living with dementia. If you would like to learn more about our approach to memory support or our assisted living memory support options, please contact us or give us a call at 719-259-1331.