Transitioning to a senior living community can evoke many emotions. While you're probably excited to start a new chapter of life, you may also feel nervous at the thought of leaving a longtime home, downsizing your personal belongings or adjusting to a new routine. Know that it's perfectly normal to feel the pangs of change to come. These emotions don't mean that you made the wrong decision or won't be happy in your new community. And while many older adults may experience such feelings as they prepare for a move, there are several steps you and your loved ones can take to ease the transition and help you quickly adjust to your new home.
1. Get to know your new community
Most of us have daily routines, so the thought of changing up your routine may feel stressful. To reduce any stress, learn what the day-to-day schedule will look like at your new community. What time will meals be served? What activities will be offered throughout the day? What amenities and services will you have access to? Knowing the answers to these questions will give you a better understanding of what to expect before settling into your new home.
2. Ask questions
The best way to get answers to all the questions you have is by talking to the community's staff, as well as current residents. Spend time with staff members before moving in, which begins when you visit to learn more about the community, take a tour, and speak to a marketing or leasing person about the details. These individuals will help you begin your exploratory process and give you a sense of the community's culture. You may also consider asking staff members to put you in touch with the community's residents. Even if the community is new, residents will be moving in almost daily, and they can give you a sense of what you should expect. These residents will also be the same people you'll be living with soon, which will help you start building relationships.
3. Get involved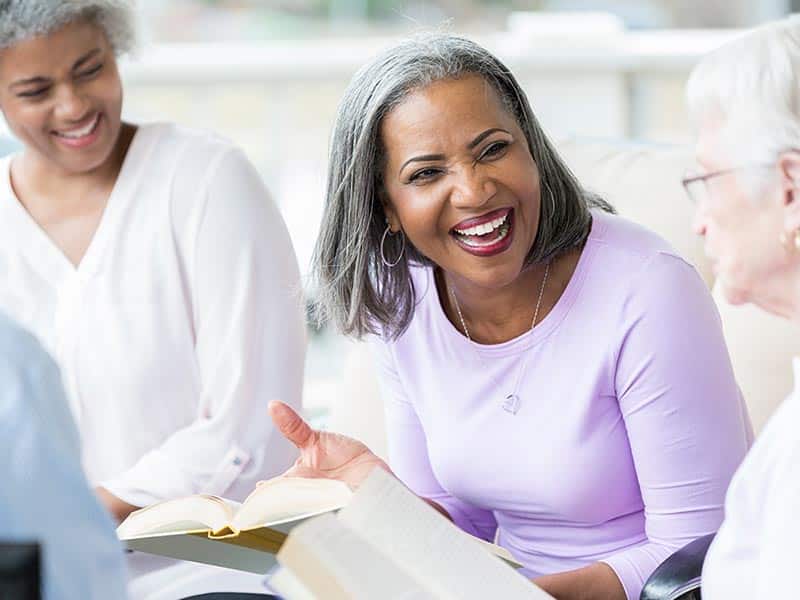 Frequent social activities are one of the best amenities senior living communities have to offer, so be sure to take advantage of your community's social calendar as soon as you move in. Many communities have welcoming committees and special events specifically designed for new residents. You should also take a look at the community social and wellness calendar each day and pick activities or events you'd like to attend. Not only will this help you get to know your fellow residents, it may help you discover a new hobby or passion! Be sure to look into clubs, volunteer opportunities and other community groups that may be of interest as well.
4. Make yourself at home
Personalizing your room or apartment is an easy way to begin making your new community feel like home. Adorn your walls with pictures of loved ones, and display favorite art pieces and other keepsakes on shelves and furniture. Decorative pillows, throw blankets and rugs will make your living space feel more comfortable as well. Consider asking family members to help you shop for some of these items, and then spend an afternoon organizing your belongings together. You may be surprised to know that a transition to a senior living community can feel difficult for loved ones, too, so take steps to involve them in the process from the start.
5. Stay in touch
Senior living communities don't host activities and events solely for residents. Often, they host gatherings for your entire family and outside guests who may be considering a move to the community. Invite your loved ones to these events and make it a point to stay in touch with them on a regular basis. Maintaining a bond with the people who provide you with a sense of familiarity will help you continue feeling like part of the family even after you've moved into a new community.
At Jackson Creek Senior Living, we're committed to helping our residents live well and age well. This means that from the moment you enter the lobby, we want to ensure you not only feel comfortable but also feel at home. If you have questions about transitioning to senior living, or would like to learn more about what our community offers to help ease your transition, call 719-259-1331 to speak with one of our team members.