By Lane Pont, R.N., Bridges Community Homecare and Hospice
Falls are the leading cause of injuries for seniors age 65 and older, but falls aren't an inevitable part of aging. Unfortunately, a fear of falling keeps many seniors away from physical activities — which is counterintuitive to what will keep them safe, healthy and strong. That's why, as Jackson Creek Senior Living's home care partner, we recently shared these five simple steps seniors can take to prevent falls and stay balanced for years to come.
1. Get moving
Exercise seems to be the antidote for most age-related challenges, and it's no different for fall prevention. Every walk, hike or fitness class you take builds strength and puts you on the path to health through balance. With an on-site fitness center and community walking paths, Jackson Creek residents have easy access to the great outdoors. The community is also located across the street from the Tri-Lakes YMCA, featuring a lap pool, exercise classes, and a strength and conditioning center, providing supplemental access for residents to retain core strength essential for stability. Plus, we're in close proximity to hiking and biking paths to help you get moving and take advantage of Colorado's natural wonders in whatever way you please.
2. Incorporate balance training
Be sure to incorporate balance training into your fitness routine. Practice standing on one foot and walking heel to toe, and perform back and side leg raises a few times a day. Look for fitness classes specifically designed to improve strength and balance as well. We will have an onsite presence at Jackson Creek, and therefore we'll deliver ongoing wellness and fall prevention programs designed to improve balance, gait, strength and range of motion. And for residents who've experienced a fall, we have a physical therapy center where they can work with a trained professional to perform exercises tailored to their specific needs.
3. Check your shoes
If you find yourself stumbling frequently, your shoes could be to blame. Avoid shoes with high heels or slick soles, and opt instead for stable, supportive shoes with a flexible sole. If you like to wear slippers, socks or stockings in your home, you could be increasing your risk of falling when you're alone. It may be wise to keep an alert device on your person in case this does happen. We've installed motion sensors and emergency alert devices in all resident rooms so staff is notified immediately in case of a resident fall. We also offer optional wearable pendants should a fall happen somewhere else in our community.
4. Eliminate safety hazards
Clear walkways in your home of items that could cause a fall, such as stacks of books or newspapers, electrical cords, coffee tables or plants. If you have rugs lining your walkways, secure them with double-faced tape or purchase rugs with slip-resistant backing. Adding a nonslip mat to your shower or tub is a good idea, too. You may also want to consider assistive devices like handrails, grab bars and a chair for the shower or tub, especially if you've fallen in the past. Jackson Creek has installed discreet safety features in resident rooms to help residents stay mobile and stable.
5. Visit a healthcare professional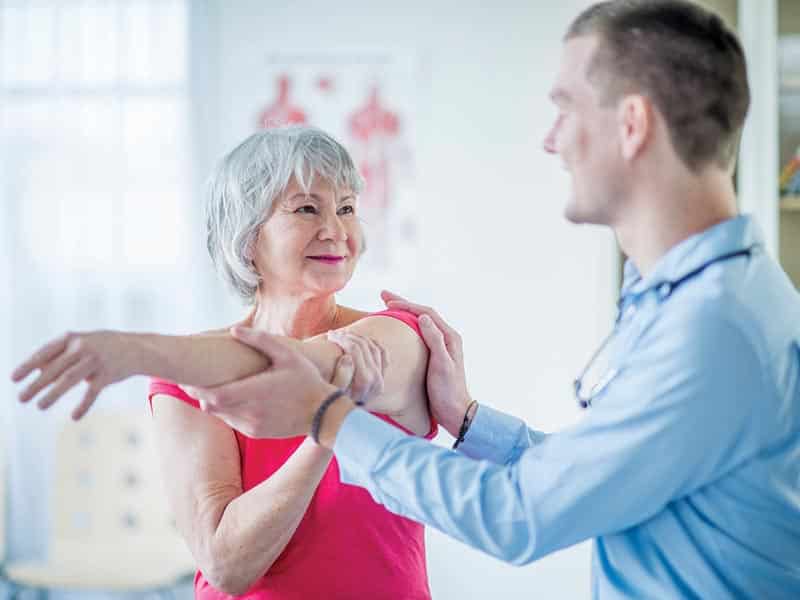 Certain medications can cause dizziness and drowsiness that can increase your risk of falling, so talk with your doctor about the medications you're taking. Be sure to make a list before your next appointment that includes both prescription and over-the-counter medications. You'll also want to discuss other health conditions that can affect your balance, such as eye and ear disorders. And if you've fallen before, write down the details of the incident, including what caused the fall and what the outcome was.
We look forward to working with the residents of Jackson Creek as they move into this new community. Having an onsite presence will enhance our knowledge of residents, their wellness concerns and allow us to deliver programs tailored to their interests and needs. And the Bridges Community Care team is available to communicate with residents' other health providers.
To learn more about Bridges Community Homecare and Hospice, visit bridgescommunitycare.com. We operate offices in Denver, Wheat Ridge and Colorado Springs, and provide services such as physical, speech, and occupational therapies, skilled nursing, home health care, and medical social services.