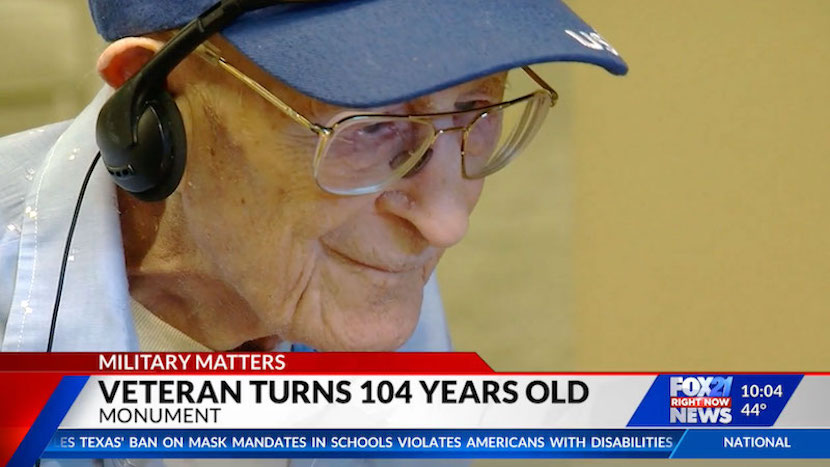 This Veterans Day, local TV station Fox 21 News visited Jackson Creek Senior Living to hear the war memories of 104-year-old memory support resident Earl Depner, one of the Pikes Peak region's oldest living veterans.
Earl, who turned 104 on Nov. 12, joined the Army Air Corps at age 24 following the Pearl Harbor attacks. In 1945, his fighter plane got shot down over France. He parachuted out as he crashed to earth and landed in territory recently occupied by the Germans. Luckily, an American found him and he survived the harrowing experience with seven broken ribs.
In all, Earl ended up flying around 100 missions in P-51 fighters during World War II and went on to fly one mission in the Korean War. He received the Purple Heart for his service and remained in the Army Air Corps for 24 years before retiring as a Colonel in 1965.
Earl was previously profiled along with four of his fellow Jackson Creek resident veterans in The Gazette's 2019 podcast series "Last of the Greatest." One of Earl's two sons, George Depner, was at the community on Veterans Day to help his father tell his story. "It is nice to know that he still remembers that stuff and still recognizes as much as he can," said George.
"I feel fairly lively for 104," added Earl, who celebrated his 104th birthday by Zooming with his six grandchildren. "I never expected to live this long! I've got so many memories I can't remember them all."
Watch the video from Fox 21 to hear more about Earl's wartime experiences.