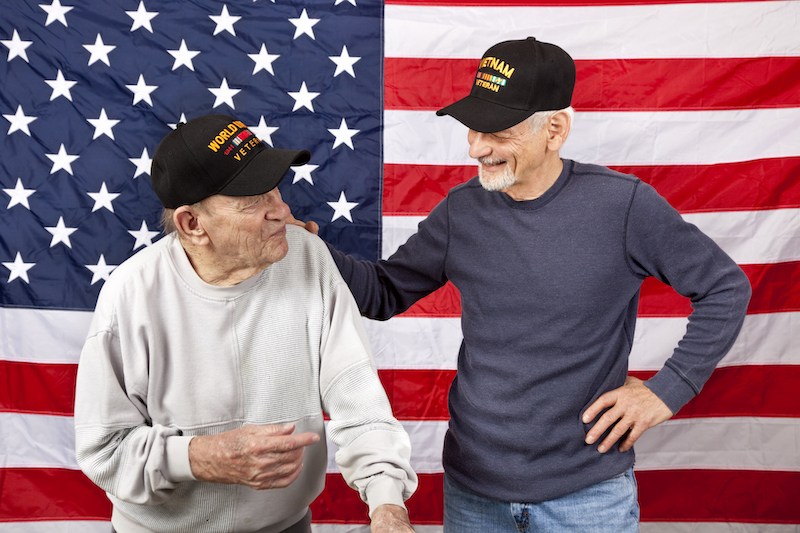 As we approach the Veterans Day holiday, observed annually on November 11, let us be mindful of how we can show our thanks and appreciation to the military veterans who served in the armed forces to protect our country. Veterans in general, but especially senior veterans, offer so much value beyond heroic service and personal sacrifices they made for our country. Their stories offer perspective, their demeanors teach us respect, and their service and duty demonstrate what it means to be an honorable American sacrificing much, for the good of many.
Whether they fought in World War II, the Vietnam or Korean War, served domestically or in the reserves, our veteran family members and friends can teach us lifelong lessons, if we simply provide them with the opportunity whenever we spend time with them.
However, as we age, our health status can decline, our financial resources may diminish, and we often become isolated from our families, friends and others. Sadly, this is no different for our honorable veterans. It's just one more reason why senior service members shouldn't go unnoticed or unappreciated, especially on or around Veterans Day.
One way our Jackson Creek team honors and supports our veteran residents throughout the year, is through regular meetings of our veterans' groups, which provide a social and emotional outlet for these residents with military backgrounds. We also host events, so our veteran residents can get together to share their experiences and bond with fellow service members.
In addition, we actively encourage veterans and surviving spouses to apply for the Veterans Administration's Aid and Attendance Benefits*, to significantly offset the cost of monthly rent for our assisted living and memory support services. We also strive to maintain ties with local veterans' organizations, so residents have a chance to give back to veterans in the community.
Our residents who have served in the U.S. military are in good company at Jackson Creek. We are very lucky to have several U.S. veterans living in our community and to be close to many outstanding local military bases, including Schriever Air Force Base, the United States Air Force Academy, Fort Carson and Peterson Air Force Base.
This Veteran's Day, our team members here at Jackson Creek will be holding a patriotic performance and a presentation by a resident of ours who served as a surgeon in Vietnam. It's important for us to find special ways to recognize and honor our resident veterans for their time in service. We would love to have you or someone you love join our resident veteran family!
Are you or someone you know a U.S. military veteran in search of a senior living community that honors your service every day? Visit the Jackson Creek Senior Living Website to schedule a tour and learn more about what our community offers veterans like you.
*Please note that Jackson Creek cannot determine eligibility for Veterans' Benefits; only the Veterans Administration can determine an applicant's eligibility.