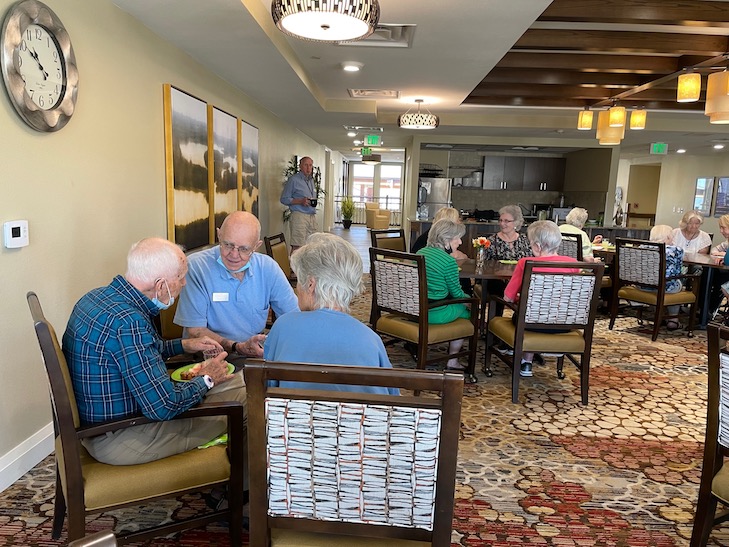 Whether you are a freshman leaving home and heading to a college dorm, a family transitioning into a new home, or a senior moving into a senior living community, the change can be both exciting and intimidating at first.
At Jackson Creek Senior Living, we know there is much to catch up on when seniors first move in, so we've implemented a getting to know staff and resident event. At this get-together, we offer some tips and advice for getting into the swing of the community for new residents, as well as offer several activities that help us, and the new residents learn more about each other.
Many thanks to Melinda Sukle, our Life Enrichment Director, for organizing a "Welcome Gathering" recently for a batch of new residents. It was also a chance for residents to meet many of the community leaders, including Chef Michael, Executive Director Cindy Batey, Wellness Director Tina Reynolds and Assisted Living Director Stephanie Ortiz. In addition, Melinda filled the new residents in on the robust calendar of activities at the community and introduced her support team, Rachel and Michelle.

We also did some "break the ice" activities, like pairing up into smaller groups to answer some fun questions to better get to know each other — this was a huge hit.
Melinda covered some of the nuts and bolts of the community operations, such as fire safety systems. Kara Frisbie also walked the new residents through all the materials contained in their Welcome Packets, including who to get in touch with at the front desk for specific, ongoing questions.
We're excited to have this new "class" of residents join our community, and we look forward to them becoming an important part of the fabric of our community culture.
(Photos taken prior to reinstituting masks)