Different forms of technology have the potential to help seniors stay connected with friends and family, provide a venue for learning new skills and ideas, offer tools to stay healthy, and help combat social isolation.
Here are four ways that embracing technology like the Internet, Facebook, smartphones and Zoom can benefit older adults, especially during this time of social distancing,
Staying connected with family and friends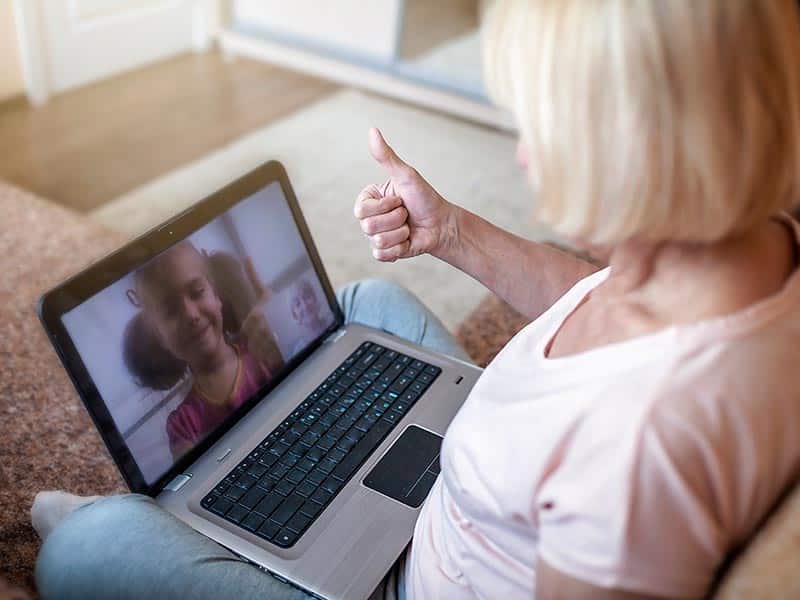 In recent months, seniors at Jackson Creek have been using different forms of video conferencing technology to stay connected with family and friends while in-person visits are unavailable. Staff have implemented a FaceTime and Skype program for residents to remain connected, aided by a collection of iPhones residents can use. Some families have even had Skype cameras installed in their loved one's apartment to encourage more regular contact.
Maintaining cognitive skills
Research links prolonged periods of social isolation in older adults to an increased risk of Alzheimer's or dementia, as well as anxiety and depression, but it also shows that even a simple online search can stimulate brain function in seniors. In a study at UCLA, researchers found that using search engines like Google triggered key areas in the brains of middle-aged and older adults that control complex reasoning and decision-making.
Learning new things
Introducing seniors to online classes, websites and tools available on the internet can open their eyes to the value of simply surfing the web. Massive Open Online Courses, or MOOCs offer free courses with curriculum from universities around the world, and anyone can enroll, while educational tech websites like Senior Planet offer virtual events and classes every day so users can connect with other seniors tuning in from around the world.
Receiving healthcare
Jackson Creek Senior Living's decision to implement telehealth methods while social distancing measures are in place has allowed the community's three rounding medical providers to conduct most of their appointments with residents remotely, via FaceTime. Through telehealth — employing remote telecommunication technologies, like video conferencing, for long-distance clinical health care— Jackson Creek residents are getting the care they need.
In addition to telehealth, Jackson Creek Senior Living has invested in various technologies that enhance the services we bring to residents, including our It's Never 2 Late system, which helps individual residents find the most meaningful way to engage with our enrichment programs and community activities.
We also use a cloud-based system called LifeLoop, and Hearing Loop, a wireless audio system that connects to the T-coils found in most hearing aids and cochlear implants and acts as a customized sound system for people with hearing loss to fully experience community life.
Learn more about how we're using technology to keep residents connected at Jackson Creek Senior Living. Give us a call at 719-259-1331 or schedule your personal tour.