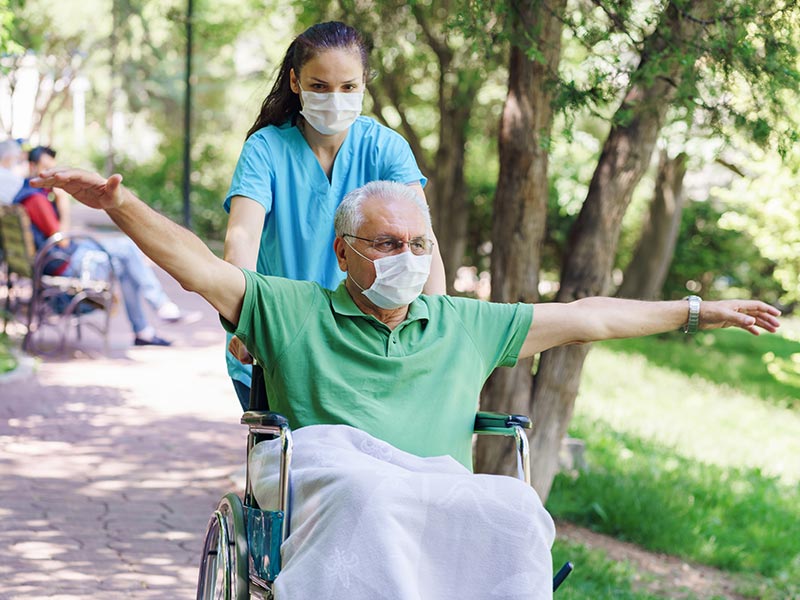 For caregivers of older adults, taking a break from time to time is important to avoid becoming overly exhausted and stressed, which can affect your personal health and your ability to provide your loved one with the best possible care.
Research has found that personal timeouts or breaks, when taken regularly, can contribute to the overall effectiveness of a caregiver. Breaks prevent burnout by allowing you to attend to your life outside of caregiving, including your career, family and personal life. Afterward, you can return to caring for your loved one feeling refreshed and rested, physically, mentally and emotionally, perhaps even with a fresh perspective on care.
Certain senior living communities, including Jackson Creek Senior Living, allow respite stays, or temporary housing and care for seniors while their caregiver takes a vacation or needs a break from the responsibilities of caregiving. Short-terms stays in such communities not only ease caregivers' responsibilities, but can also serve as a good resource for seniors recovering from an illness or injury or who are interested in a trial stay before making the decision to move into a senior living community.
Many caregivers put off taking a break because they feel guilty about stepping away from their role, even for a short time. In other cases, a caregiver may want to take a break but is having trouble finding someone to take over or feel uncomfortable bringing a stranger into the house.
Senior living communities like Jackson Creek can help; our assisted living and memory support apartments offer short-term respite stays, up to a few months at a time. Here, your loved one can relax in privacy with access to extra healthcare and personal support when and if they need it, as well as the freedom to enjoy all of the services and amenities our community has to offer, including three chef-designed meals per day, weekly housekeeping and laundry services,a fitness center, theater, library, game room, community garden, putting green and more.
With a respite stay at Jackson Creek, you'll know your loved one is in good hands, so you won't have to feel guilty about making time for self-care, whatever that means to you, whether it's going on vacation, engaging in your favorite hobby or meeting up with old friends. If you're interested in arranging a respite stay for your loved one in one of Jackson Creek's assisted living or memory support apartments, call us at 719-259-1331 to schedule your personal tour of our community.