While some form of social distancing remains in place at senior living communities, businesses and public spaces across the U.S., people are coming up with all kinds of ways to stay busy while remaining six feet apart. Here, we have compiled a list of virtual and IRL (in real life) ways seniors can keep themselves healthy, creative, stimulated and in shape, all while taking safety seriously:
Staying healthy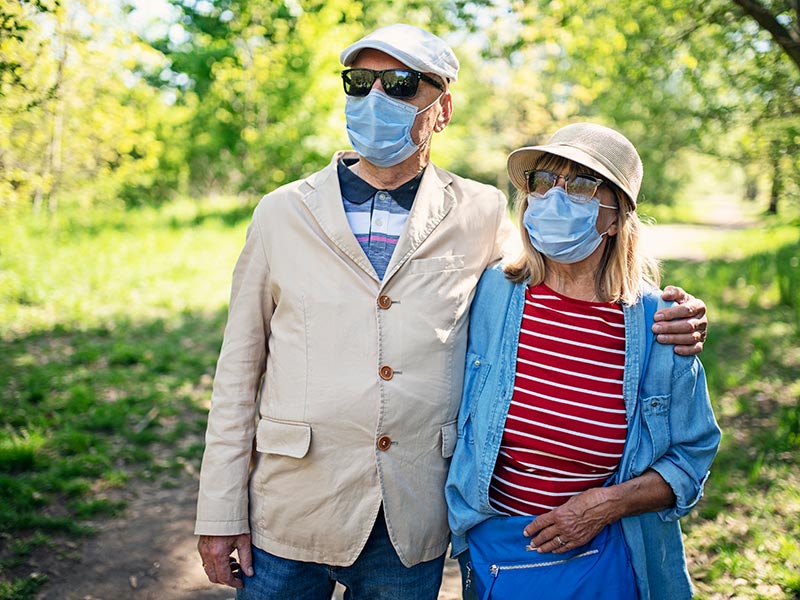 It's important during this time for seniors to stay in shape both physically and mentally, whether that means trying a virtual fitness class on YouTube, taking a walk in the park or hitting a quiet trail at your local nature preserve. Another good health resource is guided meditation on YouTube, like Joanne D'Amico's Relax for a While or The Honest Guys channel. Seniors can also find opportunities to participate in socially distanced workouts. For example, at Jackson Creek, staff lead a weekly hallway exercise program over Bluetooth headsets, while residents follow along from their doorways.
Getting creative in quarantine
One way seniors can keep their minds and imaginations stimulated while observing social distancing is sharing recipes for their favorite homecooked recipes with friends, cooking them and then scheduling a phone, Zoom or FaceTime call to compare the results. Nothing says friendship and community like a shared recipe, even if it is prepared apart. Another way to exercise your creativity while staying socialized is to start an online writing group your friends can join via email, and then share your work weekly.
Enjoying books and media
With the internet offering such a gigantic volume of media, music, films and literature, much of it for free, why not take advantage right now? The Project Gutenberg website allows you to access thousands of classic books in the public domain, no library card needed, while there are many sites to stream movies and shows. And, if you're interested in sampling the podcasting medium, check out this slideshow from Oprah Magazine of the Top 15 Podcasts of 2020 to help you get started
Trying online tours and experiences
There are many virtual experiences available just with a tablet, from museums to zoos to national parks. Seniors can visit Smithsonian Magazine's virtual travel home page to tour world destinations, or look up Google's virtual tours of five U.S. National Parks, or even check out a free tour of exhibits within the Getty Museum in Los Angeles, the Louvre in Paris and others. Jackson Creek has a supply of iPads for residents to use for any of these virtual adventures.
Connecting with others
Staying socially connected is the most important of all the ways seniors can stay busy during this pandemic. Some suggestions include trying Zoom or FaceTime video phone calls with family and friends, whether it's a simple conversation, a virtual mealtime or watching a TV show together, or volunteering with a nonprofit or political party to call or write letters on their behalf. To encourage this type of social connection, staff and Jackson Creek have set up a Facetime and Skype program so residents can connect with their loved ones at any time.
At Jackson Creek, we're working to maintain our residents' quality of life while practicing social distancing and following health and safety protocols. To learn more about life at Jackson Creek, schedule your virtual tour online or call us at (719) 259-1331.