Winter is in full effect and for older adults, temperature changes can be serious. With cold weather sweeping the country, more people are finding themselves braving sub-zero temps for even the most mundane everyday activities – and putting themselves at risk. Here are some tips to staying safe this winter.
Take your vitamins and make healthy food choices
Colder weather tends to make us want to stay in and eat comfort food. It's easy to put off simple errands, like running to the pharmacy or refreshing our refrigerators with greens and other vegetables. It's important to plan, so you have what you need, even on the days you don't want to leave the house.
Try to keep medicine cabinets stocked up with any necessary medications and vitamins, especially when winter storms are on the horizon, so you always have what you need to keep up your routine. Some pharmacies will deliver; reach out to your local pharmacy to see if that is an option for you.
Healthy food choices will also contribute to your overall well-being as they provide you the vitamins and nutrients you need. Balance your comfort food cravings by altering recipes to include more vegetables such as Beef Bourguignon with Brussels sprouts or Chicken Cacciatore loaded with vegetables. With shorter, colder days, many people are subject to Vitamin D deficiencies in the winter months, a major contributor to seasonal depression. Consider adding supplements to your routine or eating foods which are high in Vitamin D such as fatty fish, cheese, eggs and milk.
Take additional precautions outside
Always check the weather before heading out and consider temperature fluctuations throughout the day. For Colorado residents, it's especially important to consider different conditions between regions –a day trip could mean heading from a mild day in Tri-lakes to a snow day in Denver metro. Dress in plenty of loose layers (pockets of air between layers help keep you warm!) and wear waterproof gear like snow boots and a winter coat to stay dry.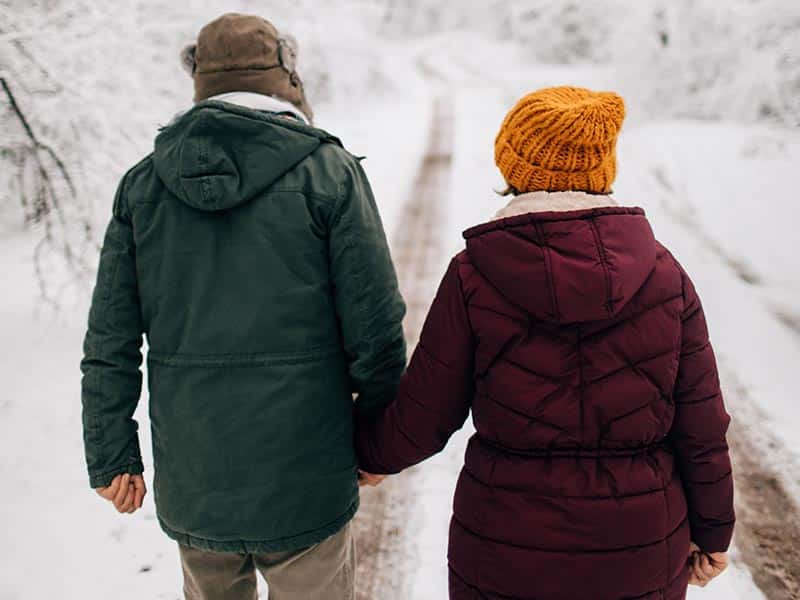 "Walk like a penguin" to avoid falling on icy walkways. Penguins have a funny waddle, but they are pros at walking on ice – their trick is to shift their weight onto the front half of their body. When people walk, we split our center of gravity mid-stride, often leading to some unstable slips. If you find yourself on faced with crossing a particularly slick walkway, focus your center of gravity on your front leg, and spread feet slightly to fortify your new center of gravity. Keep your hands out of your pockets (wear gloves!) so you can brace yourself in case of a fall and always make sure to give yourself plenty of time to get to your destination.
Remember, staying social doesn't have to be "weather permitting"
Why let a cold day keep you cooped up? Invite your friends, neighbors and family to keep you company if you're planning on staying in! Winter weather is a great reason to come together for board games, puzzles or just friendly chatter. On these recent chilly days, our residents at Jackson Creek Senior Living enjoy coming together and staying warm around the fireplace in our main building. We like to think of our hearth as more than a place to warm up – it's the perfect place to meet new friends and enjoy great conversation. We hope to see you there!