If last week's "bomb cyclone" taught us anything, it's that our community is resilient—and hardworking. Last Wednesday, a record-breaking snowstorm tore through our region, with high winds and severe drifting that left drivers navigating roads blindly. And while many workers in the region attempted to cut their day short when the snow started falling, our team at Jackson Creek Senior Living persisted on, making themselves available to support our residents and accommodate those seeking shelter from the storm.
I was stranded in a snow storm down the road and ended up getting a ride to Jackson Creek Senior Living from a guy on a snow mobile. From the moment I walked in they were so welcoming. I was given a place to sleep and I was even given breakfast in the morning. The staff there and especially Connie and Jim went out of their way to help me. If they can be this giving, kind and genuine to a complete stranger, imagine what they could do for a family member in need. Thank you for all of your help!"

–Shawn O.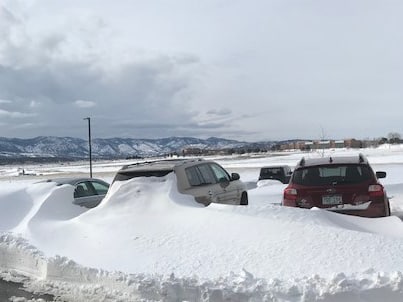 One minute it was an inconvenient rainstorm, then suddenly everything went white. Or, at least that's how it felt for drivers who, in the span of about 20 minutes, lost almost all visibility on the roads. Many of our neighbors—more than 1,000 people— throughout Tri-Lakes found themselves stranded, but for those who found us, there was at least a hot meal waiting for them. Stranded by the sudden white-out, folks were coming in to Jackson Creek Senior Living throughout the day and into the evening in need of food, shelter or just a warm cup of coffee. I am proud of our staff for their dedication to our community, especially during unpredictable events like this.
Hazardous conditions made us all think twice about our commute home. As a caution, nursing staff, life enrichment, and kitchen staff opted to stay through the night rather than risk the unpredictable weather conditions. Some team members ended up staying at Jackson Creek for more than 30 hours before conditions cleared up enough for them to safely head home. But our residents, staff and stranded new friends had plenty of activities and games going to keep us all entertained.
All in all, we are all happy spring is finally starting to take full bloom, but we are equally proud to have been able to take care of those who needed our help. Thankfully, emergencies are not required to come visit us. Our door is open and we welcome anyone interested in our engaging, wellness-centered lifestyle to come visit our senior living community and see what life at Jackson Creek is like.
For updates about upcoming events, useful blogs and other interesting community news, please join our monthly newsletter!