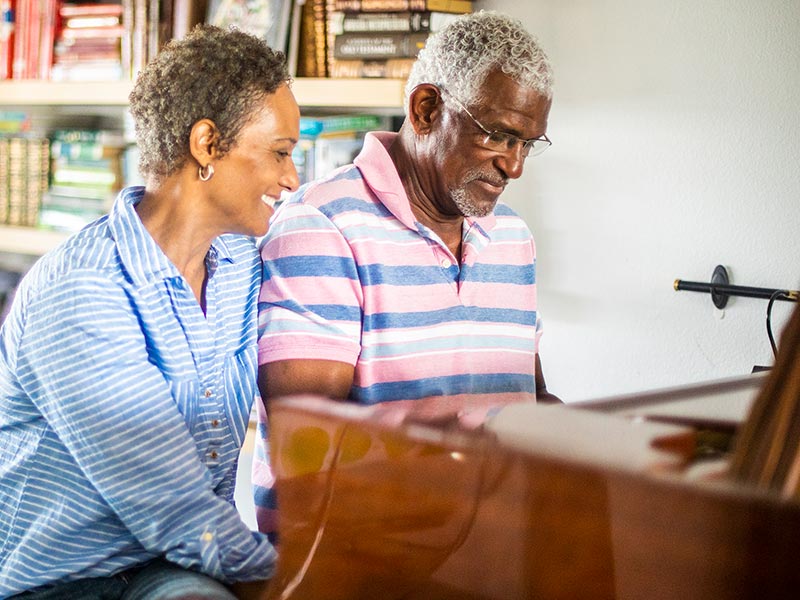 Older adults aren't the only people living and coping with hearing loss. In fact, hearing impairment is the third most common physical condition affecting people of all ages. But people born with hearing loss may have different coping skills than those who develop it later in life, and, for those who gradually lose hearing as they age, it can be difficult to know exactly what tools are available to make life more accessible.
According to the National Institute on Deafness and Other Communication Disorders (NIDCD), age is the strongest predictor of hearing loss among adults ages 20-69. Although age-related hearing loss often affects both ears, the loss is usually gradual, meaning those who experience it may not even realize it's happening. While we may not necessarily welcome the idea of losing a portion of our hearing, there are a lot of misconceptions about what life with hearing loss is like. Some adjustments may be necessary or just downright helpful, but making changes to your routine to accommodate hearing impairment doesn't mean forfeiting your happiness or independence. Here are four tips for adjusting to age-related hearing loss:
1. Tell people how to better communicate with you
At first glance, someone probably doesn't even realize you may have hearing loss. Even when you let them know, they may assume they just need to TALK LOUDER so you can hear them. This is a common misunderstanding, and one that can be quite frustrating, especially if you already have hearing aids that amplify sound. When asking someone to repeat themselves, give them some direction on how to better communicate with you. Simple requests like asking for better enunciation or just reminding them to turn towards you when they talk can make a world of difference in your conversations.
2. Consider easy home modifications
It's one thing to sleep through an alarm clock, but it would be another issue entirely to miss a carbon monoxide alarm. Depending on the extent of your hearing impairment, you may want to look into some ways to modify things around your home so they're more accessible. For example, home safety alarms, such as fire alarms and carbon monoxide alarms, are available with visual elements like flashing lights to ensure you're alerted if they go off. Your morning alarm doesn't need to rely just on sound, either—alarm clocks with vibrations or lights are a reliable alternative to just turning the volume up on your traditional alarm.
3. Maintain appropriate upkeep on hearing devices
Getting a hearing aid can make a world of difference, but it doesn't reverse or stop hearing loss. Like any medical intervention, hearing devices require some level of upkeep. Proper care and cleaning are necessary to prevent damage to in-ear devices. Additionally, it may be necessary to visit an audiologist if you feel your hearing aids aren't strong enough, or worse, they're just not making things easier. It's not just about adjusting for any worsening impairment; hearing aids sometimes need to be recalibrated or tweaked, especially if they're not filtering sound appropriately or causing too much static.
4. Use technology to your advantage
There are accessible options everywhere. More public spaces are incorporating services like audio devices, closed-captioning and sound amplification to make things more inclusive. At Jackson Creek, we use Hearing Loops in some of our common spaces, so those with hearing loss can easily participate in our community events. Hearing Loops broadcast directly to hearing devices without reverberation through a wireless connection to the telecoils (T-coils) used in most hearing aids and cochlear implants. This technology is growing in popularity and is more widely available than some people realize. Learn more about Hearing Loops on our Technology page to get a better understanding of how you can connect directly to sound sources in public spaces.