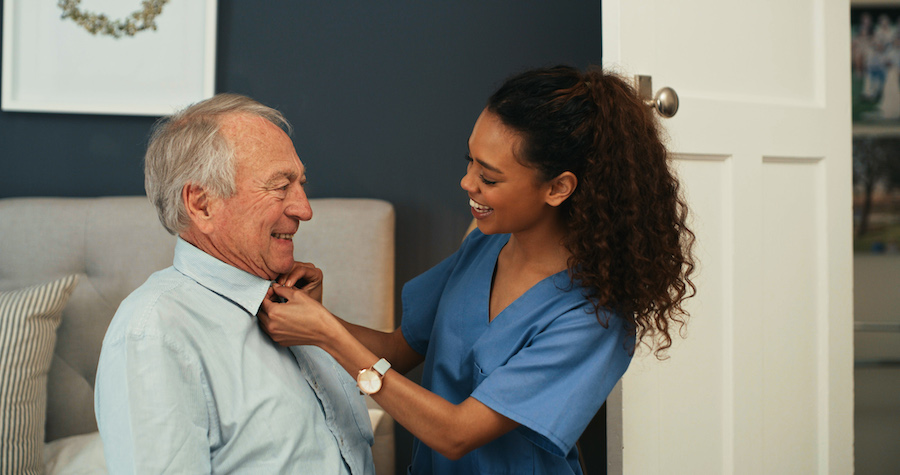 Do you or a loved one need help with activities of daily living as you age? Does a spouse or friend need help because their memory is declining? When you begin your search for long-term care for an aging loved one, knowing the difference between assisted living and memory support is important. While some of the services are the same, there are several differences in the level of care provided.
What Does Assisted Living Mean?
Seniors in an assisted living community typically need help with activities of daily living such as bathing, dressing, incontinence management, medication management, and mobility. While they require help with some of these tasks their reasoning skills are still intact, and they can communicate their needs.
What Does Memory Support Mean?
Memory support residents also require assistance with activities of daily living but to a higher and more personalized level. Seniors experiencing memory loss may forget how to turn off a faucet or burner, or even how to navigate to and from their apartment. They often cannot clearly articulate their needs which can lead to frustration. Memory support team members have special training to enhance engagement and communication with residents so they can be successful and still maintain purpose in a community.
Safety
Safety is always a concern for seniors who are prone to falls and other injuries. In assisted living, residents have call buttons in their apartments and daily check-ins to ensure they are generally in good health. Some residents may have pendants for emergency help as needed.
Residents in memory support need more personalized and enhanced security services to keep them from wandering from the community, which typically includes keypad access for team members and visitors to enter and leave the memory support neighborhood. Memory support communities are often designed to minimize confusion with plenty of open space for walking and movement, color-coded walls and personalized shadow boxes to help residents navigate the building, and lots of signage.
Socialization and Activities
Assisted living communities offer lots of fun activities and opportunities for residents to socialize and engage like painting, playing board games, going to live musical performances, daily exercise, and educational forums.
Memory support residents have access to most of the same socialization opportunities, but with more personalization to ensure they are meaningful and purposeful. Special activities may be scheduled for these residents that have been shown to help slow cognitive decline, reduce falls, and decrease the use of some medications, and are done with the support of trained team members.
At Jackson Creek Senior Living, we help families find the best living situation to meet their loved one's needs. Call 719-259-1331 or visit jacksoncreekseniorliving.com if you have questions about assisted living or memory support or would like to schedule a personalized tour.