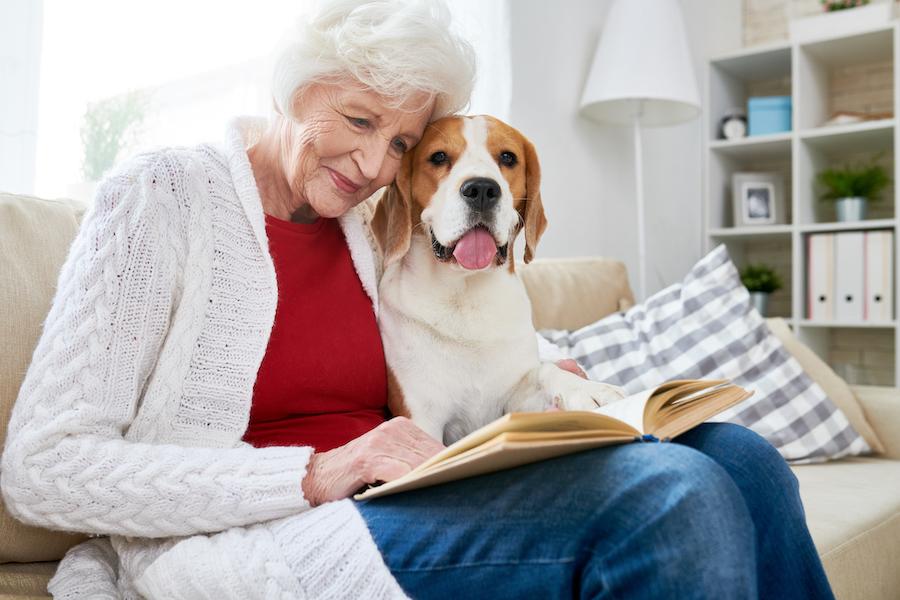 A handful of residents at Jackson Creek have pets, and in addition to brightening up the community with their personalities, we now learn there are physical, social and mental benefits to having pets. In fact, studies indicate folks with pets enjoy better mental and physical health, especially later in life, as older adults with animal companionship tend to be more active, more social and have a lower risk of depression. These same studies have found great health benefits too, like lower blood pressure, less anxiety and chemical body changes that lead to increased happiness!
For seniors with dogs, the daily walks, belly rubs and ball-tossing all add up to increased activity. Cats too need attention and cause us to move more often, from head rubs to scratches, even keeping the litter box tidy. In return for these small favors, pets shower their owners with unconditional love and affection while providing constant companionship.
At any stage of life, purpose is essential. And for older adults, caring for a pet can be very satisfying and fulfilling. Pets also need a regular schedule, and many older adults enjoy the structure that brings to their days. Since pets naturally attract people, they often serve as a social bridge between their owners and others in the community where they live. The pets at Jackson Creek are often a magnet for affection and social engagement between residents and team members as well as fellow residents.
Studies have found that when seniors with pets get out in the community, they feel a stronger sense of community. Our resident pet owners have lots of lovely outdoor spaces to spend time with their canine companions and interact with other dog owners while getting fresh air and sunshine along with a healthy dose of physical activity.
Pet owners living at Jackson Creek will find Monument to be very pet friendly. Several restaurants have patios where dogs are welcome to join their owners for a meal. There are plenty of veterinarian services, pet groomers, and independently owned and operated Wag N' Wash has all the pet essentials like food, crates and toys.
Even non-pet owners benefit from living in a pet-friendly community. While a pet may not be part of everyone's lifestyle just being around them occasionally can boost your mood by lowering stress hormone levels and blood pressure. They are also a source of humor and encourage those around them to live in the moment.
At Jackson Creek, we support our resident pet owners and welcome the "pawsitive" energy their furry companions bring to the community keeping us all a little healthier and happier.
If you're considering a move to 62+ living, please give us a call at 719-259-1331 or schedule an in-person or virtual tour to learn how you can make our pet-friendly community your new home.