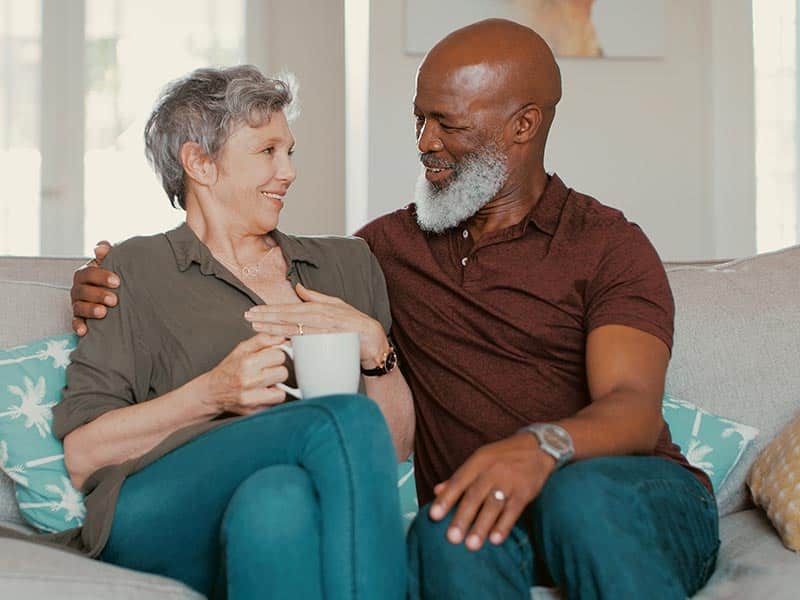 For senior couples who require varying levels of care, it's important each have access to the appropriate level of support. But, because humans age at different rates, adult children seeking accommodations for their aging parents must often reconcile their differing health needs.
Fortunately, many senior living communities, including Jackson Creek, offer a range of living options — featuring independent living, assisted living and memory support apartments in the same location — that allows senior couples to remain together while caring for their own personal well-being.
Senior living communities that offer multiple levels of care are often an appropriate solution for spouses with differing health and wellness challenges or who are experiencing the effects of aging at varying rates. For example, perhaps your mother is relatively healthy but spends much of her time taking care of your father, whom recently returned home from a rehab stay. Or maybe your mother has shown symptoms of Alzheimer's, but your father has not experienced any cognitive decline. Their differing health and wellness stages shouldn't have to keep them apart.
In addition to varying health and wellness care, senior couples can also have different social needs too. One half of the couple may still love activities with friends, going on local outings and attending exercise classes. They may want to keep their own private apartment to entertain guests; they may want to keep driving to the grocery store or visit a local nature preserve for a walk. At the same time, the other member of the couple may be more isolated, whether due to necessity, like mobility issues, or by choice, like an introverted personality.
But at communities, like Jackson Creek, it's possible to keep spouses together even if one may be best suited for assisted living, while independent living may be a better fit for the other. Jackson Creek features communal dining and activity spaces so that spouses who live in different types of units have frequent opportunities to socialize together.
Plus, the more mobile or social spouse can get his or her needs met at Jackson Creek's community may need additional assistance with daily living doesn't mean the other must limit his or her life or independence in the process. Jackson Creek also provides peace of mind and a guilt free break to go and enjoy activities or outings because a team member is there to check in as needed.
In addition, Jackson Creek's various types of apartments and wellness programs are all located within the same building, so it's easy for spouses to move about and to spend time with each other. Even if one spouse has differing health and wellness care needs.
We have many couples who have chosen to make Jackson Creek Senior Living their home and they enjoy senior lifestyle choices that encourage them to Live Well and Age Well.
To learn more about Jackson Creek Senior Living's independent living, assisted living and memory support apartments, and how we help senior couples with unique care needs stay together, give us a call at (719) 259-1331 or schedule your personal tour.