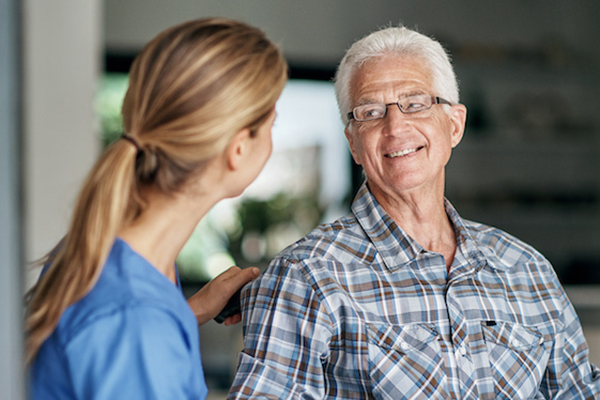 Caring for those living with Alzheimer's or other dementias requires specialized training to understand how those individuals experience the world. As part of Jackson Creek Senior Living's commitment to resident care and employee development, team members across departments completed an interactive dementia training program to help understand the challenges those living with cognitive impairment face daily.
The Virtual Dementia Tour® (VDT) program was created by P.K. Beville, founder of Second Wind Dreams, a nonprofit organization based in Roswell, Georgia. It is used in memory support communities and organizations worldwide to give caregivers, families, and health providers a better understanding of the physical and mental challenges faced by those living with memory loss. A VDT replicates common issues seniors encounter daily, including discomfort when walking or standing, loss of hand-eye coordination/dexterity, and glaucoma. Not only do older adults living with dementia deal with these age-related issues, but they may also be sensitive to loud noises and experience short and long-term memory loss.
Jackson Creek team members participating in the dementia sensitivity training program started by putting on headphones that muffle hearing and intermittently play loud distracting noises like sirens or a telephone ringing. They also wore special glasses to distort their vision, large bulky gloves to inhibit their hands and had a prickly device inserted in their shoes.
With their hearing, vision, hands, and feet altered, team members tried to navigate an apartment space typical of those memory support residents live in and were asked to complete simple tasks like folding a towel or filling a glass with water.
"The noise from the headphones was so disorienting and with the discomfort in my shoes, and the difficulty handling things, I forgot every single task I was given. I was pretty much frozen at first," said Jackson Creek Move-in Coordinator/Concierge Sarah Hansen, who participated in the dementia sensitivity training.
After her VDT ended, Hansen met with colleagues to discuss the experience. One team member recounted being unable to put a coat on a hanger, while others said they forgot some tasks and struggled to finish them. The tour facilitators graded each participant's abilities to complete tasks, and everyone shared something new they learned that would help them better care for residents living with Alzheimer's or other dementia.
"The experience was very eye-opening! We all had a better understanding of the challenges those living with memory loss and age-related health issues face every day. It made us all more aware of the noise of everyday life, and we all agreed we need to give memory support residents more time to do everything. When you take over and do things for them, they feel like they are losing a part of themselves, and our job is to prevent that and make life easier for them," said Hansen.
Jackson Creek Senior Living offers memory support, assisted living and independent living, and respite care services. Call 719-259-1331 or visit jacksoncreekseniorliving.com if you have questions about our memory support community or would like to speak with one of our dementia care experts.