Since older adults are at a higher risk of COVID-19 complications than the general population, the U.S. federal government has recommended that nursing homes and assisted living communities restrict visitations until further notice, in order to minimize health risks.
But for seniors in our communities, the isolation that accompanies self-quarantine can come with a cost: loneliness, anxiety and depression, each of which are proven risk factors for developing Alzheimer's, dementia and other serious health problems. While communities like Jackson Creek are equipped to continue to engage and care for their residents during social distancing, maintaining a connection with their family is important.
While face-to-face contact may not be possible right now, there are ways for families, friends and spouses to stay engaged with these seniors while responsibly practicing social distancing.
One of the most obvious ways to bridge the communication gap is to make sure to call, email and text your loved one more often, whether you discuss the weather, current events or what you had for breakfast. This verbal and written connection with you is invaluable, but obviously, it takes effort.
When it comes to frequent communication with your loved one, be creative. For example, eat a meal together or watch a TV show over the phone. And if community staff can help your loved one get set up with their mobile device, tablet or laptop, you might even be able to add a visual element to your call using video communications tools like Skype, FaceTime or Zoom. The managers at Jackson Creek are happy to help with FaceTime calls!
Another way senior living community staff can help families maintain connections with their loved ones is by filling in the social gaps. Families may be able to work with staff to set up a favorite movie, game or activity for their loved one, if the request is within reason.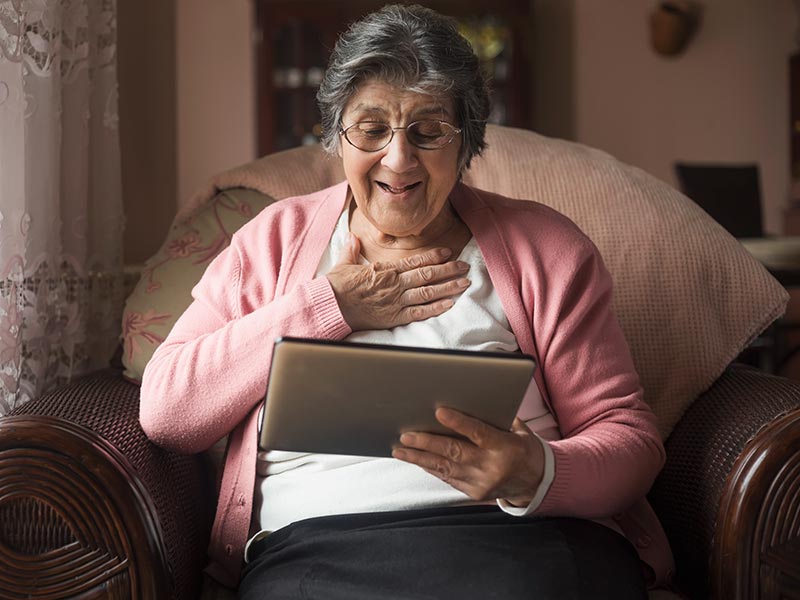 It's also a good idea to send care packages so your loved one knows they're in your thoughts. Items might include books and magazines, snacks, bath and body products, movies, stuffed animals, a handwritten note or even a digital picture frame. And some brands, such as the Nixlay Seed Wi-Fi digital picture frame instantly connect to Google Photos, Dropbox, Facebook and Instagram so you can send your loved one current photos in real time.
Senior-friendly devices like the GrandPad Senior Tablet can also help isolated seniors maintain social connections. GrandPads run a customized version of Android software designed specifically for older users and features larger icons and text for those with vision issues, as well as more intuitive pathways for clicking through to your destination. It provides many special interest apps too for weather, games and photo sharing.
At Jackson Creek, we're working to maintain our residents' quality of life while practicing social distancing and following health and safety protocols. To learn more about life at Jackson Creek, schedule your virtual tour online or call us at 719-725-6060.