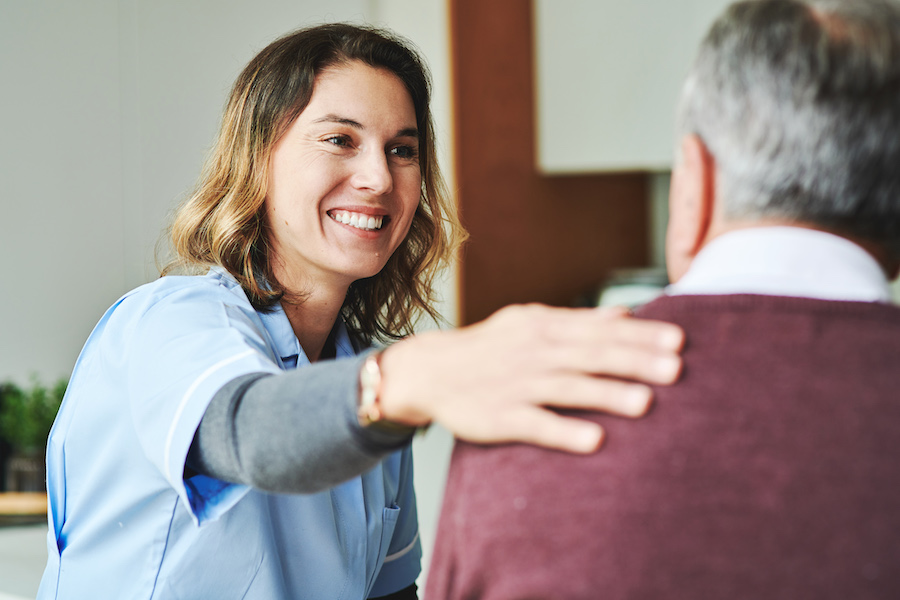 When looking for a memory support community that meets the needs of your loved one who is living with Alzheimer's, dementia, or other memory loss, the best possible place for them to be is in a community where they will have the proper support and care necessary to maintain a high quality of life even as their cognitive issues progress.
Research has shown that residents in memory support communities experience a multitude of benefits. They generally take less medication, have a reduced risk of falls and injuries, have improved wellness and nutrition, enjoy more independence and socialization, and visit the hospital less often.
Here are five important factors to consider when searching for the right memory support community and program for your loved one:
1. Staffing
It's important to ask yourself whether the team in the community you're evaluating appears to be knowledgeable and caring. Find out their level of training and experience and whether any team members are certified dementia care managers. Another important factor to consider is the staff-to-resident ratio, both during the day and at night. At communities like Jackson Creek Senior Living, team members are trained in compassionate, person-centered care and on-site 24 hours a day, 7 days a week.
2. Safety
Six out of 10 people living with Alzheimer's have the tendency to wander, so it's a good idea to find out if the memory support community you're considering has safeguards and electronic safety features against residents leaving the premises. Some communities are equipped with a wander alert system, while others implement access-controlled, video-monitored entry or emergency call systems and pendants in resident apartments.
3. Services
Think about what level of care your loved one needs, from basic services like meal prep and laundry to specialized medical care and assistance with activities of daily living. Find out a community's standard procedures for medical emergencies, especially if your loved one has underlying conditions. You may also want to ask what kinds of therapies the community offers, such as pet, music, reminiscence, light, art, or another type of specialized therapy.
4. Levels of Care
Other important information to gather is whether the community's Health and Wellness Director and memory support team develop an individual care plan for residents upon moving in, and how residents are engaged by team members with verbal queues and prompting. If necessary, ask whether the community can care for residents who exhibit disruptive behavior. If your loved one is not quite ready for memory support, you can also ask whether they have an assisted living to Alzheimer's support bridge program for early-stage residents.
5. Amenities
Finally, determine what the living arrangements are in the community you are considering: are there memory support neighborhoods? Are the apartments arranged around shared common areas like a homelike living room or dedicated activities space? At Jackson Creek, we offer a memory support dining program and two outdoor courtyards to encourage movement and fresh air. Other services include wellness and life enrichment programs, chef-prepared meals, housekeeping and laundry services, and scheduled transportation.
Before deciding, determine your loved one's personal needs and then evaluate the memory support program and community as much as possible: schedule a tour, read online reviews, talk to residents, families, and team members, and most importantly, ask questions!
At Jackson Creek Senior Living, we help families find the best living situation to meet their loved one's needs. Call 719-259-1331 or visit jacksoncreekseniorliving.com if you have questions about memory support or would like to schedule a personalized tour.