By Benn Farrell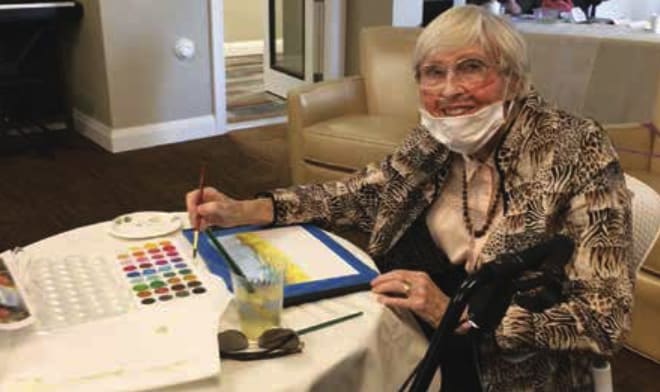 MONUMENT | Like other assisted living facilities facing challenges during COVID-19 pandemic, Jackson Creek Senior Living had to think outside the box to continue to engage and connect with residents safely.
Over the past several months, Jackson Creek Senior Living, 16601 Jackson Creek Parkway, has been offering door-to-door visits with staff as well hallway-based programs that allow for social distancing and other safety measures at a time when seniors are in a high-risk demographic.
Melinda Sukle, the life enrichment director at the facility, said the staff is always looking for ways to create a personal connection and bring people together. It is that desire to create connection which led to the facility's most recent tool to engage its residents — an in-house broadcast television channel named JCTV.
The channel features private programming accessible to all apartments and common areas in the senior living community. When pandemic measures first went into effect in March, Jackson Creek Senior Living's variety of programs was abundant, but as quarantine began to run into weeks and months, the facility wanted to offer additional outlets for residents to remain connected.
Sukle began asking the facility's volunteers, performers and instructors to create videos. These have included art instruction from JCSL's watercolor and acrylic artists, exercise videos from its tai chi, balance and senior fitness specialists, spiritual inspiration messages from faith leaders, and musical performances from entertainers like Brian Usher and Bobby Jackson.
"We are also able to use JCTV to show personal messages from staff, including words of encouragement, updates and reminders," Sukle said.
One of the newest ways JCSL plans to use its television programming is a livestream of programs directly to residents' apartments and small viewing groups. The first livestream was conducted on Sept. 19 as the facility celebrated Air Force Day, the 73rd birthday of the United States Air Force.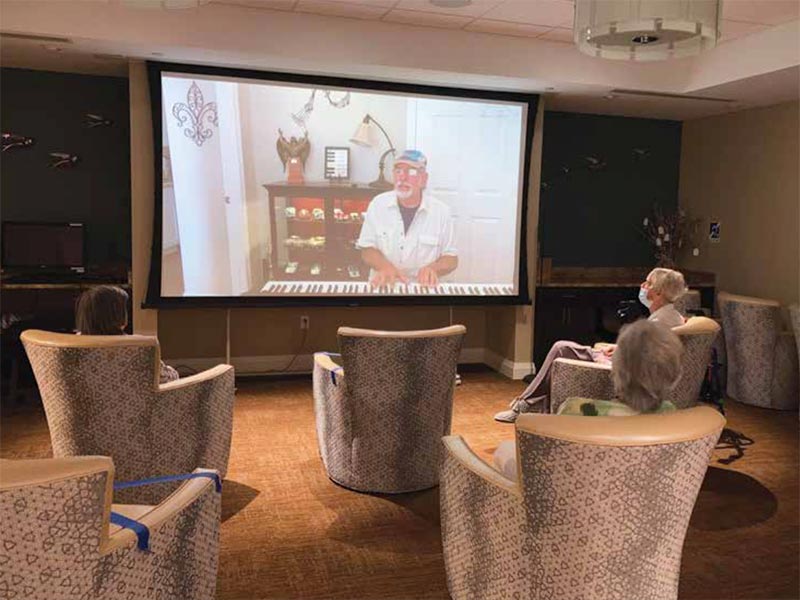 The livestream capabilities also allow the life enrichment staff to broadcast events for small groups, such as karaoke singalongs, in-house church services, trivia sessions and brain games to continue to support residents' cognitive function, Sukle said.
When JCTV has no in-house programming, it makes use of a multi-faceted senior living management program called LifeLoop, which projects the daily schedule of events, advertises upcoming programming, and provides the weather forecast and important announcements.
"JCTV provides a wonderful alternative to the negativity displayed on most news programs, which is often a go-to these days," Sukle said. "We are so blessed to have an executive director, corporate office, and ownership team that sees the potential of programs such as this and be willing to invest in them to enhance the lives of our residents."
The idea for JCTV isn't exactly a new one for the facility. In fact, when JCSL was built, an in-house television channel idea was discussed. However, management at the time knew installation and implementing such a program would require a financial investment and additional staff support. When the facility opened in 2018, the first phases of installing the channel began, but the final aspects needed to be in place for it to be operational.
Sukle had a conference call with the management and ownership teams during pandemic measures and suggested getting the channel up and running would allow for the facility's life enrichment programs to continue daily for its 130-plus residents. While Sukle came to the project with prior audio-visual experience, her involvement has required researching possibilities and a lot of learning as she went, she said.
"I keep praying all the moving parts and technical pieces fall into place when it comes time to livestream," she said. "I love seeing the residents smile and talk about a show they watched and how it brought back such great memories. The time and effort it has taken to get this up and running is well worth it.
"One of our residents told me, 'I'm getting behind on my reading because of all the great programs on JCTV.'"
Sukle said the television channel can use volunteers with video production and editing capabilities to help create videos. The facility is able to do the in-house recording, but the staff could use help with putting programs all together, she said. Musical or theatrical videos from local performers or high schools to show on the channel are also welcomed. Contact the facility at jacksoncreekseniorliving.com/contact or call 719-259-1331 to volunteer.
"My hope for the near future is to create short, personal videos of each resident, which include some of their life stories and fond memories," Sukle said. "This would allow our residents to be more connected to one another and learn about each other while still in quarantine."
JCTV remains one piece of what the facility's life enrichment program offers. It continues to coordinate small group gatherings of six residents or less, hallway activities, traveling carts, gardening opportunities, personal visits, assistance with video calls and more, the director said.
Originally published in the Tri-Lakes Tribune. Photos courtesy of JCSL Life Enrichment.